This dress was inspired by the
Coffee Date Dress
sewalong hosted by
Project Sewn.
The pattern is multisized, but I used the size used for the original garment from the designer
The Selfish Seamstress.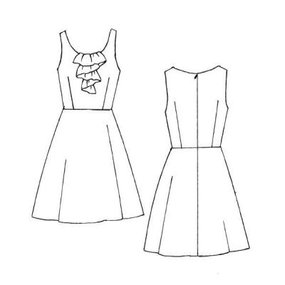 This was the original design, and as you can see, I added a few things and omitted the ruffle, as I am not a very ruffley person at this period of my life.
I only had 1 metre of lace so I had to think carefully about how I was going to use it, but I knew that I wanted to use it somehow. It ended up being on the bodice and the hem.
To add it to the hem I extended the pattern pieces by 8 inches and cut out 1 of each fabric for the 3 pieces.This was then sewn right sides together to the hem and then turned over to the wrong side of the dress. The new hem was then gathered to fit the new hem. I'm hoping that made a little sense?
The peter pan collar was a last minute decision as I decided that you can't have two lace covered bits and one uncovered bit. Oh I am not having that. So the peter pan collar evened things out. It does also look pretty, and makes the dress a bit more interesting which are slightly more sane reasons for adding it on…
And the zip was a success! Yay! It was handpicked as usual, as I feel that I have slightly more control over what's going on. I think the only alteration I made was to add an inch or so to the back bodice and skirt pieces, to make sure that there was enough room for a zip.
And that's everything I think! Thank you so much for reading onwards, in spite of brief insane moments. As with all of my dresses, now I need to make up an event of some sort so I can wear it out! I get my exam results tomorrow so fingers crossed that this will be my celebration dress! Ah, so many exclamation marks.
Bye! Lauren x